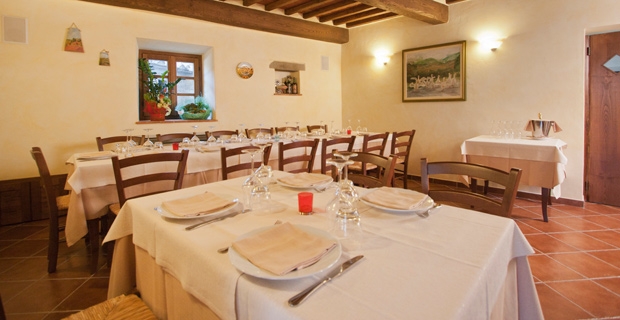 The restaurant
Casale l'Antico Carro is a B&B in Cortona with own restaurant proposing the typical Tuscan cuisine. Located on the ground floor of the main house, in the past the restaurant was occupied by the cattle stables and there was also an old wood–fired brick oven probably dating back to the beginning of the 1900s at the main entrance.
Our restaurant of Cortona consists of two rooms in the main house and a private room in the outbuilding for receptions and private events. The good taste of furniture, the beautiful floors in terracotta tiles, the care to every little detail, the warm atmosphere of a typical Tuscan restaurant will be the background to a top-class Tuscan cuisine.
Our menu presents traditional Tuscan dishes such as crostini with chicken liver, cheese and cold cuts as hors d'oeuvre, many different types of hand-made pasta like tagliatelle, pici and ravioli with traditional sauces like wild boar or truffle sauce, excellent main courses like tripe or jugged wild boar, and many home-made desserts like "torta della nonna" (a cream cake), tiramisù or cantucci (biscuits with almonds) and much more.
We will guide you on a culinary journey to discover the flavors of the past, the most traditional Tuscan recipes served with the excellent Tuscan wines, comfortably sat down at a table of a lovely restaurant in the Tuscan countryside. If you wish to stay at B&B of Cortona Casale l'Antico Carro, you could not only have the classic service of bed and breakfast, but also choose a half board service, according to your needs.
The restaurant is open to the public and is available for banquets and ceremonies, which could be organized outside during the summertime, under a functional external gazebo and on the huge green spaces surrounding the country house. A typical restaurant in Tuscany like the one you can find at B&B of Cortona Casale l'Antico Carro can offer you much more than a simple dinner by proposing different ideal solutions to celebrate the most beautiful moments in your life.
Contact us by phone at +39 0575/604202 or by email at info@anticocarrocortona.it for further information about the different services offered and for reservations.
The restaurant is open every day from 19.00 to 22.00. On Sundays we are also open for lunch from 12:00 to 14:00. Closed on Monday.
Photogallery