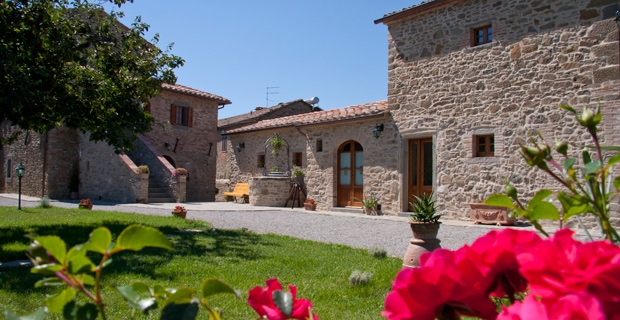 The country house
Casale l'Antico Carro, B&B in Cortona, originally was an old farm, probably part of a larger monastery complex, which had been built in the valley surrounding the hill of Cortona. As evidenced by some stones that have been found during the renovation works, the original complex probably dated back to the 17th century. In the past the country house has been a dwelling of farmers and land agents who were involved in wheat threshing, grape harvest and cultivation of the land, a typical country estate where farm machinery and agricultural implements were stored, farm animals were bred and fields were cultivated.
Owned by the Caprini family since 1965 and opened in July 2012, the B&B of Cortona Casale l'Antico Carro has been perfectly renovated in classic Tuscan style by keeping its original architectural features intact. The 6 rooms are large, finished in good taste and equipped with all modern conveniences.
Casale l'Antico Carro is a b&b with restaurant in Cortona, finely furnished and comfortable to make you feel at home. During the summertime breakfast can be served outdoor. You could choose between a classic room and breakfast option and a half board option. Our restaurant serving the typical Tuscan cuisine is family-run and only uses good quality ingredients produced in the area to guarantee good food and a healthy and balanced diet. The rich buffet breakfast proposes both sweet and savoury food to satisfy the tastes of everyone and the menu of our typical restaurant of Cortona will surprise you with delicious hand-made traditional Tuscan recipes.
The country house is surrounded by a huge blossoming garden with typical shrubs and plants of the Tuscan countryside such as viburnum, bay tree, holm oak and many types of fruit trees like pomegranate trees, cherry trees, peach trees, plum trees and fig trees. During the different periods of the year, a piece of land of the Caprini's estate is also cultivated with seasonal vegetables. In the center of the garden an amazing swimming pool with "Roman" entrance steps is available for our guests. The swimming pool is 10x5 meters, with a maximum depth of 1.40 meters.
You could relax in the peaceful Tuscan countryside, forgetting about traffic noise and urban stress.
A large and convenient free parking is also available to the guests of this B&B of Cortona and its typical Tuscan restaurant. The restaurant also disposes of an easy access for disabled or motor-impaired people.
Photogallery