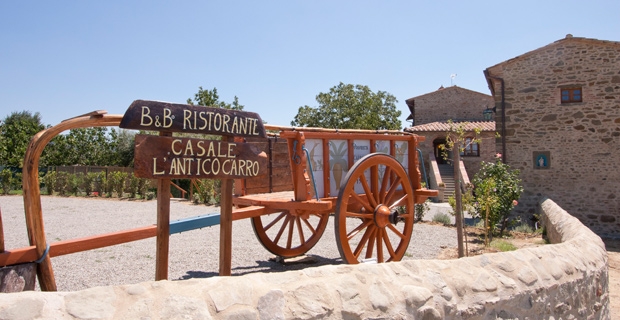 The Bed & Breakfast
Casale l'Antico Carro is a lovely bed and breakfast in the Tuscan countryside located in Montalla, only 4 km away from the historic center of Cortona, among smooth hills of olive groves and vineyards and boundless fields of wheat and sunflowers.
This typical bed and breakfast of Cortona consists of a main country house, which has been finely renovated in classic Tuscan style by keeping its original features unchanged, and an outbuilding. In the main house there are 2 rooms on the first floor and 2 rooms on the second floor, linked by a cozy common lounge with sofas and a fireplace and by a beautiful staircase with wrought-iron handrails. The lovely restaurant serving the typical Tuscan cuisine and the reception open from 8 AM to 10 PM are located on the ground floor of the main house.
The outbuilding, which once was a tobacco drying kiln, consists today of 2 double rooms, a common lounge, which will be then equipped with a kitchen for self-catering, and a private room of the restaurant. The latter, which was once used as a stock room for farm implements and as a cellar for the family supplies, can be used today for events, birthday parties or small private receptions.
Among the facilities you also find a large parking, a huge park with a swimming pool and view onto Cortona and the Tuscan hills.
Casale l'Antico Carro, B&B in Tuscany, gives its guests the chance to choose between a classic bed and breakfast option and a half board service, according to your needs.
For further information about our facilities and the prices of our typical B&B in Tuscany, please look up the regulation and prices page on this website.
Photogallery